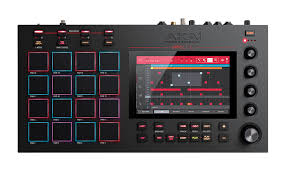 The MPC Live is the next step on from its predecessor MPC Touch, which is purely a controller and interface for Akai's MPC software. This version is its very own standalone hardware unit. You can create beats, melodies, or even entire arrangements  with it, without the need to hook up to your PC. That option, of course is still fully available.  You can control the MPC software on a Mac or PC, just like the Touch, so all bases are covered.
The unit itself is nicely compact and has a reassuring robust feel to it, while maintaining a sensibly spaced control layout. On the top panel you'll find 16 velocity-and-pressure sensitive rubber pads with backlights, five touch-capacitive 'Q-Link' encoders, some editing buttons, and a 7″ touch display.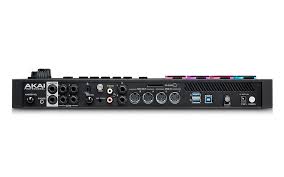 This unit is a chunkier piece than the MPC Touch and the rear in/out panel has plenty to offer, with a master volume knob, 3.5mm headphone jack, six 1/4-inch outs, Kensington lock slot, record volume knob, phono inputs, ground lift, line/phono selector switch, two 1/4-inch inputs, SD card slot, two MIDI inputs and two MIDI outputs, two USB A plugs, one USB B plug, mains-power input, and an on/off switch. Enough options there for any application under the sun. You can sit in the train station, with your headphones, oblivious to the world, or rock up to the dance tent at Glastonbury, plug in and bring the house down!
Under the hood is 16 GB of internal memory, and a 2.5-inch SATA connector, for extra HDD or SSD hard drive storage options, and a rechargeable battery, giving  up to six hours of use  on a fast 45-minute charge.
A good place to start is with the pre-installed demo presets , which, for beginners and intermediate users, is already more than enough to produce some banging tunes! The projects cover genres such as hip-hop, chilled trap, and tech house and include one-shots, loops, and playable instruments. A great way to experiment and discover what this machine can achieve in a relatively short space of time. You'll have to stick with it for a bit, while getting use to the layout, but results will come right from the off.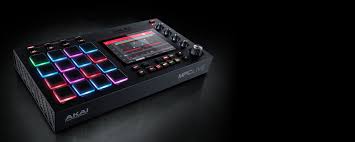 Ok…so on to my first composition. After spending some time on the presets, I started a new empty project, loading a drum kit, and creating a bass track, then programming patterns for them. Everyone has their own preferred methods. You can record your parts on the pads in real time, complete with quantisation, input note by note on the touchscreen, or return to the pads to enter notes step-sequencer style.
For those that are nervous of real time entry, it's a very comfortable interface and I recommend having a go. You might surprise yourself! Either way, you can always edit via midi later, just to tee things up. Recorded material can be played back manually, as and when, or you can drop them into a song and playback all in sequence.
The MPC Live is a true sampler too. So if you want to add or exclusively use your own sounds and samples, then you can do that by importing sound files from a USB drive connected directly to the unit, or sampled with a mic from the inputs on the back, or from a turntable, using the phono ins. Full editing make it possible to slice and loop at will, and then trigger them from a designated pad as a one shot or loop.
A wealth Audio Effects, like compressors, delays, distortions, chorus, phaser,  EQ's and reverbs can be added during  recording, and printed to disk with the sample.
Of course, the LIVE can be hooked up to the computer, which opens up a whole load of other options, but as a standalone, you can really submerge yourself in just the "box" anytime, anyplace, anywhere. I dare anyone to try to outlive the 6 hour battery!! All you need is a pair of headphones and a comfy seat (and a Café Latte would be cool too).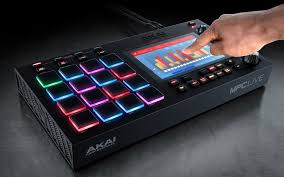 Also, you don't have to use the computer to render/save the finished product. You can render your arrangement directly as a stereo file (AIF, WAV, or MP3, up to 32-bit/96 kHZ) to the hard drive, or external storage.
For those that feel the need to expand the console, then USB Midi Controllers and keyboards can be connected via the USB ports. Everyone has their own way of doing things. I like to use a keyboard sometimes and there are plenty around that are compact enough to do the job, without you having to get a bigger rucksack!
The AKAI Pro MPC Live: The Next Step?
So to sum up……. The MPC Live is basically the MPC Touch with a built in computer. You can take this wherever you like and use it as a standalone machine, producing top quality material without constraints. On top of that, it can still work with Mac or PC hard and software, to push the boundaries further. From playing beats, loops and shots from the pads, capturing and sampling your own audio, using a keyboard for sequencing or realtime interaction, this beauty does it all. Weighing in at just 2.7 Kgs, it won't rip you your shoulder off either. 6 HOURS BATTERY LIFE AND 45 MINUTE FAST CHARGE!!
PROS
Standalone Unit
Compact / Strong
Super Long battery life
Super Fast recharge
Great Investment
CONS
Touchscreen limited
Expensive
Needs Ext Storage