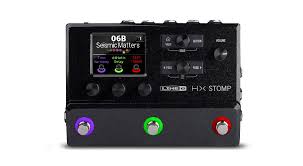 The Line 6 HX Stomp is a fantastically scaled down version of its big brother, the Helix. The difference being that the Stomp is basically the FX section of the Helix. With 300 effects, including the Helix, M Series and legacy Line 6 data, plus the amp, cab and mic simulators of Big Bruv. So if you already have your favorite guitar amp and just want to add effects, then this is what you're looking for.
Boasting a full colour screen, it certainly looks the part, but be careful where you "stomp" your feet, because everything is close together. To be fair, the other controls are locked out during editing, but I fear the risk of damage, if you're too heavy "footed" while in mid ROCK!!
A midi option is available, should you want to incorporate it into a larger set up of foot controller operated gear. Editing and mapping is pretty straightforward for these purposes.
During testing, I opted for the OCD overdrive simulator, but there is such a wealth of heritage and experience to choose from, I would be very surprised if you couldn't find anything suitable. The manufacturer collaborations are breath taking. The challenge is to choose just one. Set up through my Blackstar HT Club 50 tube amp, as a clean set base, I was able to get some roaring crunch which opened up very nicely at increased gain levels. I was able to achieve great results, through both a Gibson Les Paul Standard and my own favourite single coil loaded Fender Strat. Both impressed at bridge and neck positions.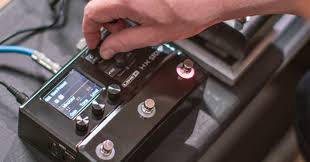 There are lots of other very cool effects to add to the available 6 blocks on the HX Stomp. You can play around with tonnes of ideas, from gates, compressors, delay, reverb, phase, flange, vibrato, wah (with exp pedal), even synth models and don't forget the looper!!
Review: Line 6 HX Stomp: Worth It?
So to sum up…. Line 6 have a high reputation for this kind of thing, and for very good reason!! If you don't have time to mess around, then you can set up a multitude of solid, instantly gigable patches, covering all manner of styles, in no time at all, just using the presets. You won't be disappointed. There are limits, though, as a maximum of 6 usable blocks per patch, might leave you wishing for more, especially considering how much quality is on offer, but that's why its scaled down, and of course, cheaper than the likes of other members of the family (Helix & Helix LT). It does the job and so much more. Very portable and robust, but watch out when using the Doc Martins!!
PROS
Wealth of Tone and character
Incredible FX & Amp Sim options
Midi Mapping for larger intergration
Easy to programme
CONS
Small screen size
Limited to 6 blocks per patch