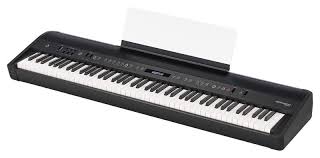 I've always been a huge admirer of Roland and have followed them for many years. Their design and handling has always been excellent and for me, they are the benchmark of affordable music tech for the musical performance market. The Roland FP-90 is most certainly keeping that reputation and my opinion flying high! With a slick new modern look and feel, and a confidence boosting sturdiness and durability in its build, it has all the makings of a top quality instrument and music making tool.
The correct label to file this under would "Stage Piano" and is not light by any means. But there is good reason for that. There's a lot of very cool tech under the hood, including the hammer system in the keyboard. The design is very attractive, with LCD display, 25 buttons and 8 sliders. It's well laid out, with space to work without too much complexity.
The buttons on the FP-90 are lit, which is very handy when playing live, making it easy to know which bank and function is in use. A key factor when choosing which machine to invest in as a "workhorse", if you're a professional musician.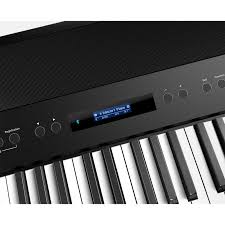 The keyboard is a beauty!!
Featuring 88 keys, realistically weighted and with a great feel, the PHA-50 (Progressive Hammer Action) keyboard, gives the feel of a traditional acoustic piano. The lower keys are heavier than the higher ones, responding and rebounding immediately, just like you'd expect from an acoustic. A very clever and beautiful touch from the design team. Of course, you can also adjust the touch and sensitivity levels to suit your individual preference, allowing you to make the piano your very own.
There are 300 instrument sounds available, including 15 piano, 16 electric piano, 11 strings, 15 organs, 15 pads and many more. The piano samples are captured from actual acoustic piano samples and processed via Roland's very own and highly acclaimed "Supernatural" technology, which has been around for a while now.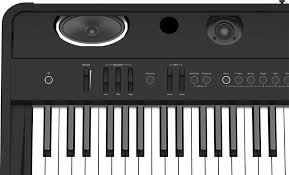 The Roland FP-90 also offers a "Piano Designer" feature where users can edit elements that affect the overall sound of each tone, including the lid position, key release and hammer noises, string resonance, and duplex scale.
When it comes to polyphony, Roland has excelled with this 384-note polyphony engine. You are NEVER going to be disappointed with this because the notes are NEVER going to cut off too early. It's quite remarkable!
The on board speaker system does not disappoint. There are 4 internal speakers that pack a strong and very clear punch with no clipping or sound degradation at high volume. Also with the option of a mic jack input, allowing you to plug in a vocal mic, which you can also treat with effects like echo and compression, that is also played through the speakers, you are pretty much a standalone small venue ready package, ideal for accompanying singers, choirs or any other ensembles with low level percussion.
If you play in a band or at larger venues, then rest assured, the 2 x ¼" jack outputs will plug you into any sound system. You will be heard in all you Roland glory!!!

The Roland FP-90 features 2 extra modes.
Dual Mode – simple to use and pretty standard in digital pianos. You can very easily layer different sounds together, for example, strings with a piano. This creates the effect of being accompanied by a strings section while playing piano. A very common, yet very clever and effective way of performing.
Split Mode – using different sides of the keyboard to produce different sounds. For example, piano or bass on the left and strings or organ on the right. A very cool part of this feature, which you don't often find in other competing digital pianos, is that you, can adjust which point to make the divide. It doesn't have to be in the middle.
You can then save any personal preferences of sounds, modes and tones, etc. as "Registrations". A maximum of 30 is allowed. Many users might want more than that, but I think 30 is a fair amount. I suppose it depends how varied your playing is, or what group and style of music you're involved with.
And don't forget of course, the other standard features included in most digital pianos are Metronome, Transpose, Octave shift and Tuning. There all here! But the Midi recording facility is a little disappointing. You can only record one midi track for playback, which means that you can't build a recorded song, full backing track. An upside is that the recordings can be exported to your pc, in .wav format for further editing, so it's not all a loss.
Expanding on this further, we are pleased that a USB port is available for connection to a pc. This means that the keyboard can be used as midi controller in many recording software applications. Plus Bluetooth, for wireless connection to various software and apps available on the market. Roland has one called "Piano Partner 2".
Review: Roland FP-90 Digital Piano
So to sum up….. It's very rare that Roland will ever disappoint with their beautiful, ground breaking creations, from Keyboards, to amps, to "BOSS" effects, which of course belongs to the same family. This is a beast of a machine, which will serve you through time, allowing you to both create and perform. As far as quality and versatility of sound is concerned, The Roland FP-90 is up there with the best. Possibly being a little short on the midi recording and playback section and also being a bit of a lump to cart around to gigs, that's far outweighed in my opinion by everything else on offer. An extremely reliable and gorgeous looking digital piano!
PROS
Great Professional Tool
Smart Design
PHA Hammer Action Technology
CONS
A bit heavy
Restrictive Midi recording feature